ASHLAR
Rotating Ashlar Roman Slate This stamp combines the popularity of Ashlar Stone with our most popular texture of Roman Slate. For a true random pattern, simply rotate this stamp in a counter motion, matching different sides of the stamps when applied.
COBBLE STONE
Old Cobblestone has the look of an Old World classic. The stones run in a running bond or offset pattern. There is a variant in the size of the stones with the largest stone measuring 5" x 8 1/2". This pattern can be widely used for driveways, patios, walkway and interiors.
CUT STONE COBBLE
The beautiful look of Old World Cobble offered in a cut stone version, with it's own unique background texture. What a lovely accent to any area in your home. Proline offers precision fit, a lighter stamp and a distinctive look. Cobblestone range in size from 5.5" x 5" to as large as 5.5 x 8" in a running bond pattern. As with all Proline patterns, this stamp is offered in a thin flex for edges, against walls and walkways.
APPIAN COBBLE STONE
This historic pattern is a replication of the Via Appia, the oldest and most celebrated road built in Italy in 300BC by Roman censor Appius Claudius Caecus. These beautiful cobbles are offered in two sizes- see our Appian Cobble Stone Large Stone for a larger scale version of this pattern. Our Appian Cobble Stone stamps consist of an A & B side. This allows for a more open, less repetitive pattern.
APPIAN COBBLE STONE Stamp
WOOD PLANKS
Boardwalk 12"Wood Planks Proline offers the look of wood flooring with the durability of concrete. Our Boardwalk is highly life-like, right down to the pegs in the planks. Each plank is 12" wide and comes in 4', 6' & 8' lengths. Use our Water Based Acrylic Stains to color this pattern to your choice - brown tones for natural wood look. Color in gray tones and add our Wild Mustang Border Art for a true Western look. We also offer a 6" boardwalk with pegs.
RANDOM STONE
Arizona Flagstone, one of our "Signature" pieces, offers the realistic look of Flagstone with the durability and low cost of concrete.This lovely pattern will compliment driveways, walkways and patios with its natural beauty. This pattern consists of a 3 separate stamps, allowing for random placement of stone.
BELGIUM SLATE
Random Belgium Slate Love the look of natural random stones with the rugged texture of slate? Proline's Random Belgium Slate gives you stones ranging in size from approx.8" x 10" to 12" by 18". Each stone has a lightly hammered edge and defined grout lines for a natural quality. A single tool application and, as wth all Proline's patterns, we offer this pattern in a thin-flex mat for finishing against walls and walkway edges. Belgium Slate adorns the background of these stately stones.
SANDSTONE EDGE
Random Sandstone Hammered Edge Stone Looking for a natural stone look with the durability of concrete? Our Random Sandstone Hammered Edge is one of our most popular patterns. This stamp comes in 3 versions (see Random Sandstone Groutable & Random Sandstone Wide Joint). Each stamp consists of 6 natural stones ranging in size from 9" x 10.5" to the larger 13" x 19". As with all Proline patterns, this stamp comes in a thin-flex mat for finishing edges and against walls. Favorite among home owners.
BRICK PATTERN I
Running Bond Used Brick A running bond pattern is brick with the joints in each row centered on the bricks in the row below. Proline offers a traditional used brick size of 4" x 8" in this Running Bond pattern. We also offer the same size brick in a Herringbone and Basketweave pattern.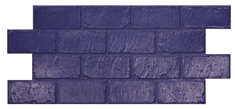 BRICK PATTERN II
The Basketweave pattern is a pattern made up of pairs of bricks placed in a square grid so that the join between each pair is perpendicular to the join of the four pairs around it. Proline offers a tradional used brick size of 4" x 8" in a Basketweave pattern.
BRICK PATTERN III
Herringbone Paver Proline offers a larger size paver in a Herringbone pattern. The pavers measure 6" wide and 11.75" in length. The background texture is Limestone.
BRICK PATTERN IV
Herringbone pattern refers to a pattern of columns of short parallel lines with all the lines in one column sloping one way lines in adjacent columns sloping the other way. Proline offers a tradtional used brick in a Herringbone pattern. Brick sizes are a typical 4" x 8" in size. We also offer brick patterns in a running bond and basketweave pattern, as well.
SEAMLESS SKINS
"Avere un bell'aspetto" in Italian means to make beautiful- and that's exactly what Proline's Seamless Italian Slate will do to any area of your home or workplace. Italian Slate in its natural form is relatively soft and therefore used primarily for billiard tables. Proline has replicated the stunning look of Italian Slate with the endurance of concrete. Seamless textures continue to be a favorite among Proline users due to the ease and quickness of installation, the durability and low cost.
Dura-Color Hardeners
​
Dry-shake Color Hardeners come as powders that are hand broadcast onto the freshly placed concrete and then worked into the surface with a float or trowel. Proline's Dura Color Hardener is a uniform, streak-free concrete color hardener that's durable enough for high traffic areas. In addition to adding color to concrete, it makes a great base for stamped concrete. Available in 42 beautiful colors.
Dura-Color EZ-Accent Water-Based Stain
​
Proline Dura Color EZ-Accent is a water-based acrylic stain that is specially formulated to accent any decorative concrete surface. It is a translucent stain that is designed to blend with the base color over which it is applied. EZ-Accent is quickly and easily applied to decorative concrete flatwork, vertical surfaces and rockscaped for accent colors and natural-looking variations. There are 15 standard EZ-Accent colors. Available in 4 ounce and 1 gallon containers with a rate coverage ranging from 5-20 square feet to 400-800 square feet. See our how-to video for application process.
Inspiration to help make your next project a reality. Concrete stamps & colors.
1/2
Dura-Stain Chemical Acid Stain
​
Chemical, or Reactive Stains, can be applied to new or old, plain or colored and stamped concrete surfaces. Chemical Stains penetrates and permanently stains new or existing concrete and wears only as the concrete wears. Use a reactive stain for creative faux finishes, permanent and variegated colors, no chipping or peeling and lasting results. Proline also offers a variegated water-based acrylic stain- see EZ-Accent. AQUA BLUE, PATINA AND SAHARA ARE NO LONGER AVAILABLE.